News
Self-Build PCs now available! - 06 Aug 2015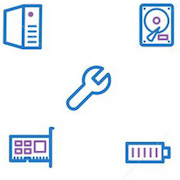 Ever wanted to build your own PC? Now you can! Choose from a carefully selected list of components in our Self-Build PC section and build your own PC. You will receive all of the components selected, with all of their included accessories, to assemble in your own way. Whether this is you first time building, or you need a new PC and just fancy building it yourself, this section is ideal for you.
Also you do not have to select every component required for a full system! So, for example, if you already have a Hard Drive and Graphics Card, you can order all of the remaining components required and not end up paying for parts you don't need.
What's more, if you buy components from our Self-Build PC section they carry our 2 year warranty for that extra piece-of-mind that usually doesn't come with component purchases.
Order now and receive a free Anti-Static Wristband to help keep your new components safe from ESD while you build!
Windows 10 available now! - 29 Jul 2015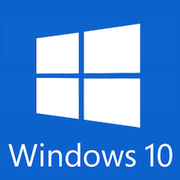 Windows 10 has arrived and we are now taking orders for Windows 10 computers, to be sent out as soon as they are ready. All of our Custom PCs now have Windows 10 as the default operating system, with Windows 7 and 8.1 options still available.
Windows 10 is familiar and easy to use, with lots of similarities to Windows 7 including the Start menu. It starts up and resumes fast, has more built-in security to help keep you safe, and is designed to work with software and hardware that you already have. Windows combines the strengths of Windows 8 and Windows 7 to bring a powerful all-new, yet familiar, operating system.
Head over to our Gaming PC, Home PC, Editing PC, Work PC or All-In-One PC section now to start customising a Windows 10 PC to suit your needs!
Windows 10 pre-orders now being taken - 25 Jul 2015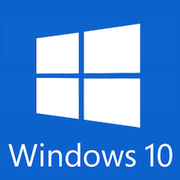 We are now accepting pre-orders for Windows 10 computers, to be sent out after release on 29th July. All of our Custom PCs now have Windows 10 as an option for the operating system so no need to wait until release to get your orders in.
Head over to our Gaming PC, Home PC, Editing PC, Work PC or All-In-One PC section now to start customising a Windows 10 PC to suit your needs!
GTX 980Ti now available on our systems - 17 Jun 2015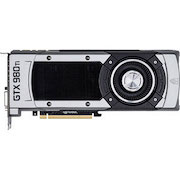 We have now added the Nvidia GTX 980Ti to the graphics card line-up in our Gaming PCs. This new card from Nvidia boasts performance at a Titan X level, but at a fraction of the price! With 6GB GDDR5 you can rest assured that you will not run out of video memory, even gaming at up to 4K resolutions! You can customise a
Hardcore Gaming PC
,
an Overclocked Gaming PC
,
X99 Gaming PC
,
a Compact Gaming PC
or even an
SLI Gaming PC
to include the GTX 980Ti now!
FREE Upgrade to Windows 10 - 29 May 2015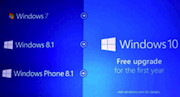 Great news! Microsoft will offer a free upgrade to Windows 10 for qualified new or existing Windows 7, Windows 8.1 and Windows Phone 8.1 devices that upgrade in the first year! And even better: once a qualified Windows device is upgraded to Windows 10, we will continue to keep it up to date for the supported lifetime of the device, keeping it more secure, and introducing new features and functionality over time – for no additional charge.
It is their intention that most devices will qualify, but some hardware/software requirements apply and feature availability may vary by device. Any new system will meet the Hardware requirements for this upgrade. Devices must be connected to the Internet and have Windows Update enabled. Windows 7 devices must have SP1 and Windows 8.1 must have the latest update to be able to upgrade to Windows 10.
Intel NUC Mini-PC - 24 Mar 2015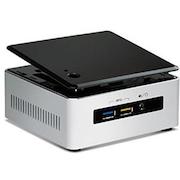 Unbelievably small Intel NUC systems now available for configuration at Power Computing!
The 4-inch square Intel® NUC takes the powerful capabilities of a desktop system and packages it into a computer that fits in the palm of your hand. This fully scalable system comes with the latest 5th generation Intel® Core™ i3 or i5 processor and integrated Intel® HD Graphics with 4K display support.
Whether you want a digital jukebox, home hub, or light gaming PC, the Intel NUC gives you the power to play, create, entertain, and inspire. The system includes consumer infrared sensor so you can use a remote control for your NUC right from your couch, 7.1 surround sound, Mini HDMI video interface, and room to store full-length movies or quickly serve up music files.
A replaceable lid gives you plenty of options to create the Intel NUC you want—with amazing style and features. There's also a high-speed USB 3.0 charging port that lets you easily charge your tablet or smartphone quickly.
Nvidia GeForce GTX970 & 980 - 20 Sep 2014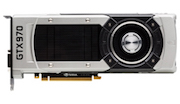 Nvidia Maxwell based GPUs available
The new Maxwell based GTX 970 and 980 graphics cards from Nvidia have now been added to our range of Gaming PCs.
These new cards bring a new era of extreme performance with very low energy usage; with maximum power usages of 145W for the GTX970 and 165W for the GTX980 you can now run a top-end Gaming computer on a 500W power supply.
As well as better performance and lower power usage, these new cards pack a whole host of new and exciting features such as DSR (Dynamic Super Resolution) which allows you to run games at 4K resolution on a 1080P monitor and much more, read more about it on Nvidia's website Here.
Intel i7 X79 systems now replaced with new Intel i7 X99 chipset - 11 Sep 2014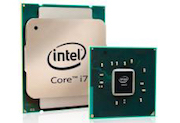 Following the Launch of Intel's new X99 chipset and Haswell-E processors, we have updated all of our previous Intel X79 systems to the new X99 chipset with the new CPUs Excelent choice for a High end PC for Photography Video Editing or Gaming.
The X99 systems now have the feature-packed Asus X99-S motherboard and the option of Haswell-E 5820K or 5930K Six-Core CPUs or the 5960X Eight-Core Extreme CPU.
With this new update to the intel extreme series line-up, the CPUs have a nice base clock increase and more cache, with the ability to overclock them even further while maintaining lower temperatures.
This increase in performance allows for your CPU intensive programs such as photo and video editing and Gaming to push even harder and get the maximum potential from the system.
As well as the CPUs being faster and more efficient, the new X99 chipset has many advances over the, somewhat dated, X79 chipset such as native USB3.0, 10x SATA 6Gb/s ports, as opposed to 2x on X79, and of course support for new DDR4 memory.
DDR4 memory adds a far greater native speed of 2133MHz and uses less energy than current DDR3 modules, meaning it is more energy efficient and can be pushed harder for overclocked modules up to a staggering 3000MHz.
In all the new X99 chipset adds everything that was missing from the X79 chipset and improves upon all of the current features for an all-round performance and feature increase.
Intel's Haswell CPU Refresh and new Z97 chipset - 21 May 2014
Following the new release from Intel of their refreshed Haswell line-up and Z97 chipset, we have changed the Intel i3 i5 i7 CPUs on all of our Intel Performance, Gaming, Video Editing and Value PCs and the Z87 chipset systems have been updated to the new Z97 chipset.
This refresh brings a little extra power at no extra cost! The new refreshed Haswell CPUs run at least .1GHz faster than their previous counterpart and are at the exact same price point. If you're in the market for a new PC, whether it be for general home office use, Photography or Video work, Music production or playback or a beast of a Gaming PC then now is the time to buy!
The new Z97 chipset from Intel builds upon the success of the previouse Z87 chipset to increase performance all-round for a fast, fluid computing experience. The Z97 chipset motherboards also include the addition of SATA Express and an M.2 slot to allow storage bandwidth to exceed the 6Gb/s that SATA 3 currently provides, which will pave the way for new, faster SSD drives in the future.
As well as supporting the Haswell refresh, the Z97 chipset also adds support for the next generation of Intel CPUs, meaning any PC with this chipset in will be hugely future proof and support any new CPUs that Intel will be releasing on the 1150 socket.
Bedford Laptop Computer Service PC Repairs , new PC custom computer builds - 08 May 2014
PC Repairs Bedford . Do you live in Bedford or Kempston bedfordshire or, indeed, anywhere in the UK with our nationwide collect service? Is your PC Laptop computer sluggish, infected with a virus, continually crashing or just plain dead? Then why not let Power Computing repair it for you. We can even build you a new computer and transfer the data for you. We now repair Apple iPad.
Power Computing Ltd configure and sell PC components and we service/repair your Desktop PC or laptop, even Apple Mac & Ipads. We also custom build PC computers, for home office and gaming, and offer a data recovery service. We have built up an enviable reputation in business since 1985. We have a team of approved technicians who are fully trained & you can be rest assured that your data is in safe and capable hands. We have our own parking & showroom so you may book in your computer repair or pop into us & discuss your Computer PC requirements,whether for Home business or gaming, with Staff that fully understand the industry and are enthusiastic. We always put the customer first & We Love To Help!
Just call us on 01234 851500 or visit our Repairs page for more information.
Payment Methods
We accept most credit and debit cards online and in-store, secured by SagePay. In addition you can pay using PayPal.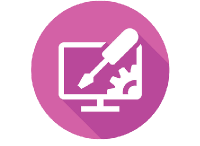 Our 2 Year Warranty
We are so confident about the quality of our systems that we are able to cover our PC Systems with a two-year, free collect-and-delivery, warranty on parts and labour.

Finance your Purchase
Spread the load with our affordable finance packages.