Trading PCs
If you are involved in the financial trading markets you'll probably want a PC that is quiet, fast and supports multi monitors for keeping an eye on many activities at one time. Our Trading PC is just that, with lots of options so that you can configure one that's absolutely right for your needs.
Custom PCs
A Custom PC from Power Computing is the best value, highest quality computer you can buy. Be it for gaming, occasional or regular home use, CAD, video and photo editing or just internet browsing, you are sure to find the right system for your needs. Just click one of the PCs below and start customising. If you need help in finding your ultimate PC just call our friendly staff on 01234 851500.
Payment Methods
We accept most credit and debit cards online and in-store, secured by SagePay. In addition you can pay using PayPal.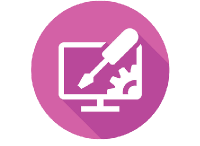 Our 2 Year Warranty
We are so confident about the quality of our systems that we are able to cover our PC Systems with a two-year, free collect-and-delivery, warranty on parts and labour.