Editing PCs
To start configuring the perfect editing PC, choose from one of our Intel i3, i5 or i7 Intel 7th Gen Kabylake custom PCs. If you do a lot of high-end editing, customise an X99 Professional PC or a Kaby Lake Overclocked custom editing PC for the latest, greatest components possible.
Work PCs
Choose one of our Work custom PCs featuring the new 7th gen Kaby Lake cpu. Begin configuring your perfect Custom PC,†starting with our Intel i5 or i7 desktop PC systems. If you just need a basic PC for browsing the web and checking emails then start with our Pentium i3 i5 Entry Custom PC and customise it to suit your needs. if you want something small to save space choose one of the small Mini ITX custom PC options. To build a more powerful system, getting more out of your PC, choose our intel i5 i7 Custom Work Performance PC.
CAD PCs
If you need a work PC for Computer Aided Design (CAD) or 2d or 3d visualisation graphics software (AutoDesk, MAXON Cinema 4D, Cativia V5 et al) then we have custom PC options to suit your budget. Choose from one of our Intel i5 i7 or Custom X99 XEON CAD Workstation PCs all featuring the latest Generation CPUs by Intel i.e. the Kaby Lake 7th Generation CPU, the X99 Broadwell-E CPU and the Xeon Haswell-EP CPU. We are here to help you choose your perfect custom CAD workstation PC. Contact us if you need any help to customise your CAD PC.
Payment Methods
We accept most credit and debit cards online and in-store, secured by SagePay. In addition you can pay using PayPal.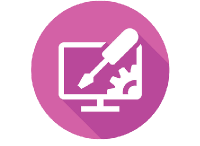 Our 2 Year Warranty
We are so confident about the quality of our systems that we are able to cover our PC Systems with a two-year, free collect-and-delivery, warranty on parts and labour.